Getting Started with WordPress: The Benefits of a One Page Website
Getting Started with WordPress: The Benefits of a One Page Website
https://noyadesigns.com/wp-content/uploads/2020/04/wordpress-web-designer-1024x576.jpg
1024
576
NOYADESIGNS
NOYADESIGNS
https://noyadesigns.com/wp-content/uploads/2020/04/wordpress-web-designer-1024x576.jpg
Many people seem to feel that for them to have a website, they need to have 10+ pages, a blog, a photo gallery, a portfolio, a mailing list and much more, right on launch day. This isn't always the case and can cause "analysis paralysis" which may lead to delays in creating a website. It is necessary to have a website in 2020, however, you can create a one-page website that'll keep your domain name looking good, as well as give you some time to build out the necessary content for your site. Here are three reasons why creating a one-page website may be a good idea for you or your organization.
Getting Started with WordPress
Looking to get started with WordPress? You'll need a web hosting provider, first and foremost. An example of hosting providers include:
Hostpapa
Siteground
A2Hosting
Bluehost (Yuck)
Hostgator
GoDaddy
Even NOYADESIGNS offers hosting services!
Many hosting accounts allow you to install WordPress without using one line of code. One-click installers allow your WordPress journey to get started, sans code, PHP or a computer science degree. Once your WordPress install is complete, the next step is finding yourself a good theme. Let's dive right into that!
It Creates a Solid Foundation for Your Digital Real Estate
The purpose of a one-page website is to deliver the most important and necessary pieces of information about your product, service or personal brand. When it comes to doing anything online, ensuring that you have your own piece of real estate, your website, is the best investment you can make. Facebook may die tomorrow, and Instagram may become a thing of the past. Your website has a better chance of outlasting any social network. I would highly recommend building your one-page website on the WordPress platform, with the theme Divi. Divi provides you with a wide-array of tools that will be able to assist you in creating an impactful one-page website.
Need some ideas? Here are a few websites that I've built with the Divi and WordPress combo down below:
Helps You to Build Your Mailing List
Everyone is aware of that in our current age of digital marketing, having and nurturing an email list is of critical importance. Instead of sending your email subscribers to a dead-end Mailchimp landing page (no offence!), you can up the ante by sending them to the opt-in section of your one-page website. What this allows you to do is provide more context and information to your audience, which can increase the chances of them joining your list, hiring or buying from you.
For our client Camillie (website pictured above), we created the first section of her one-page website as an email optin section. She consistently grows her email list on a weekly basis, which she then uses to notify her subscribers of her upcoming course dates which leads to her being fully booked for her expertise.
Grows As You Grow
Your one-page website is not supposed to stay as a one-page website forever. As you get more content together, finalize your photographs and finish up your branding, you can now add more to your site. It's now time to take the plunge to add more to your website. A big benefit for organizations who are looking to build larger website is that the CMS WordPress allows for this exactly. You can add pages or take them away; build a store, or tear it down; it's all in your hands.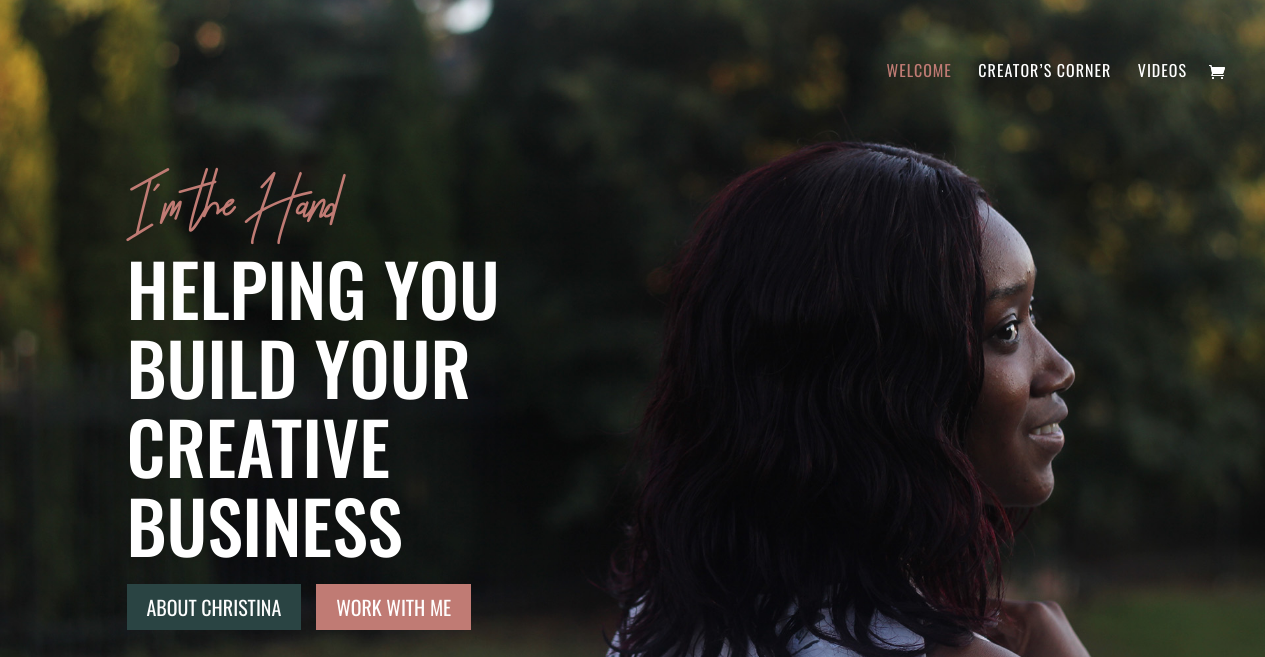 I initially built my personal website (pictured above) as a one-page website. As I provided more consulting services, I needed more pages. When Black Friday 2019 came around, I needed to create an online store. With WordPress, I was able to create these additional pages and products for the season. Once the season was over, I tore these page down and added new, more relevant ones.
In Conclusion: Build Your Website Today
If you've been holding off on building your site, there is no time like the present. Commit to building a one-page website for your business today. It will enable you to put the bones in place to build out your digital real estate. You'll also be able to grow your email list better with your own website. Then when you are ready to grow, you'll be able to do so with ease and speed. Looking for a service provider to build your site for you? We're here! Book a FREE discovery call today to see how we can potentially work together to get your digital foundation locked and loaded for your business.