Lead Ads, What Are They?: A Quick and Easy Overview
Lead Ads, What Are They?: A Quick and Easy Overview
https://noyadesigns.com/wp-content/uploads/2020/03/lead-ads-1024x576.jpg
1024
576
NOYADESIGNS
NOYADESIGNS
https://noyadesigns.com/wp-content/uploads/2020/03/lead-ads-1024x576.jpg
Lead ads are a form. I bet you were expecting something crazy right? Leads ads are a type of Facebook ad that you can run through the Facebook Ad Manager. Since the ad and the form are on the Facebook platform, it's pre-populated with the users information. Users who are a part of your target demographic.  Facebook already knows the user's name, email, and probably their phone number as well, as they had to provide all this information to them to have an account. The act of "filling out" the lead form has already been completed for them… pretty cool, right?!
It is because of this, that there is no need for them to waste time typing it all out. Once they click submit they can continue watching cooking videos without any interruptions. You can see a sample of how the lead ad process works down below: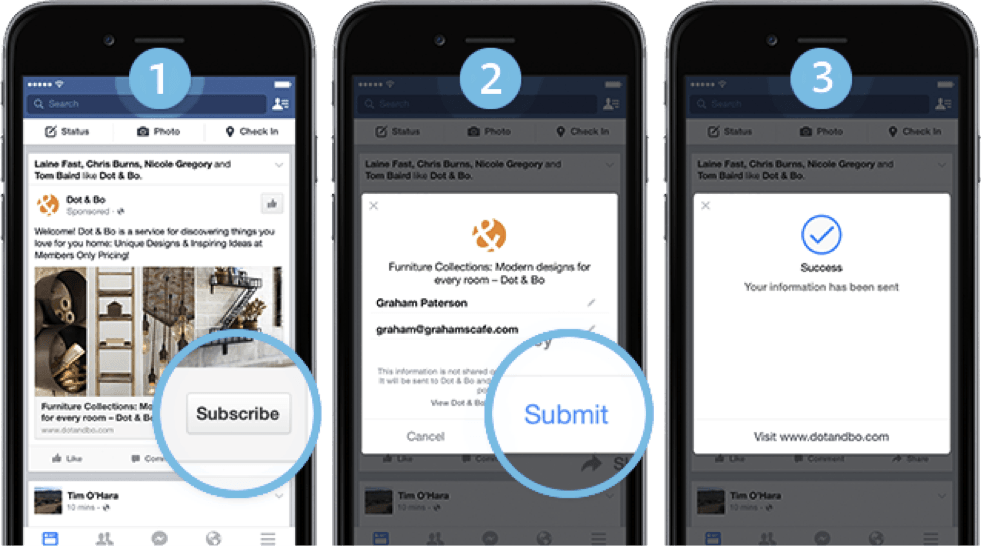 If you have a free ebook, webinar, checklist or training, the easiest way for you to get people to download it in exchange for their email address is with lead ads. There will no longer be any need for you to have a separate landing page created, nor will your prospective buy need to leave the Facebook app. They simply press submit through the Facebook ad, and you get a file with all there information. You can then take that information, and import it into your email marketing service like Mailchimp, ConstantContact or your email marketing service of choice.
But wait! There's more! You can add other qualifiers or options into your lead ad form as well. You could ask them:
Where they live
What their household income is
What kind of dog food they by
And almost, really anything you really want to know about them!
The benefit to doing this is that you will be able to target the type of people you want to join your list. It doesn't get much better than this! Since you're putting money behind this it could be $5/day or $50/day (up to you!) you'll have a system to build your email list on auto-pilot.